This is an archived article and the information in the article may be outdated. Please look at the time stamp on the story to see when it was last updated.
As questions remained unanswered about exactly what led to the fatal shooting of Bell Gardens Mayor Daniel Crespo by his wife, a vigil was held for the 45-year-old man at City Hall on Friday evening.
Crespo died after being rushed to the hospital Tuesday afternoon. He had argued with his wife, and then, as his 19-year-old son tried to intervene and the father and son struggled, Levette Crespo shot her husband multiple times, authorities said.
She was detained and questioned then released. She has not been charged.
Son Daniel Crespo Jr. was treated for facial injuries.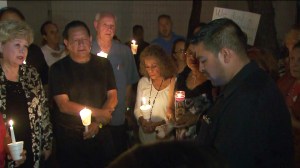 Those close to the New York City native gathered Friday evening in front of City Hall to remember the slain man.
As supporters began to arrive at the vigil, a friend of the mayor confirmed that he had been having a relationship outside his marriage.
After Daniel Crespo told the woman that he wanted to patch things up with his wife, the woman "continued to harass the family," friend Albert Bernal said.
"This woman caused a lot of harm and a lot of distress to the family, being a little bit psychotic," Bernal said.
Crespo's brother also referred to an affair on Thursday, but an attorney for 43-year-old Levette Crespo did not comment on the alleged infidelity.
Crespo grew up in "one of the toughest projects in Brooklyn," his biography page on the city's website stated.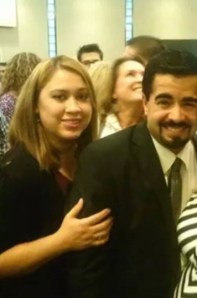 He married his "high school sweetheart" when they were young teenagers, then, in 1987, the couple moved to Bell Gardens. In 2001, he was elected to the City Council in the city of about 43,000 residents 10 miles southeast of downtown Los Angeles. He was a longtime employee of the county probation department.
"He was a remarkable person," Bernal said Tuesday.
Neighbors said the Crespos appeared like a typical family, but attorneys for Levette Crespo and the couple's two children said there were years of abuse on the part of Daniel Crespo.
"Things were not as they seemed," Claudia Osuna, an attorney for the children, said Thursday. "It was a very difficult life at home that they had."
The children were "standing behind" their mother, Osuna said.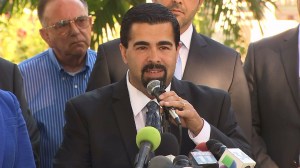 At a joint news conference, Levette Crespo's attorney, Eber Bayona, said his client was a devoted wife and mother who had been a victim of years of domestic violence.
Bayona said he planned to show investigators evidence of abuse. Police had said no disturbance calls had ever been made at the family's Gage Avenue town home.
There were also allegations of aggressive behavior by Daniel Crespo outside the home.
KTLA obtained a document written by former Bell Gardens City Manager John Ornelas in which he alleges that Daniel Crespo threatened his life.
Read: Alleged Death Threat Made by Daniel Crespo
There were also police reports filed by neighbors claiming the mayor threatened them with a gun.
As for his personal life, Daniel Crespo was having an affair and his mistress had become pregnant, the slain mayor's brother Williams Crespo said Thursday evening.
William Crespo also said the mayor was considering leaving his wife.
KTLA's Kimberly Cheng contributed to this article.