This is an archived article and the information in the article may be outdated. Please look at the time stamp on the story to see when it was last updated.
A Los Angeles County fire engine was involved in a crash Friday while responding to the scene of a collision in Bellflower that injured six people, two critically, authorities said.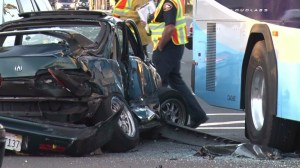 A bus and car collided in the initial crash, which occurred at the intersection of Somerset Boulevard and Woodruff Avenue (map), said supervising dispatcher Robert Diaz of the L.A. County Fire Department.
That incident left two patients in critical condition, and four others suffered minor injuries, Diaz said. Officials initially said five people were hurt.
A fire truck was en route to the scene when it got into a separate collision. No firefighters were known to be injured, according to the dispatcher.
No other information was immediately available.