This is an archived article and the information in the article may be outdated. Please look at the time stamp on the story to see when it was last updated.
With the San Francisco far-right rally planned for Saturday canceled, there is more focus on the second rally planned for Sunday in Berkeley.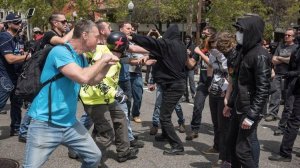 Though past rallies have been held in Berkeley parks without permits, the sponsor of Sunday's "No to Marxism in America" rally did seek one. It was denied.
An organizer said she was told on Wednesday by the city manager's office that the permit application failed to include plans for first aid and sanitary services, and that she had failed to provide sufficient identification.
As of late Friday afternoon, the Facebook event page for the rally remained active, with more than 300 respondents indicating they would attend.