This is an archived article and the information in the article may be outdated. Please look at the time stamp on the story to see when it was last updated.
A Beverly Grove resident recently got attention from neighbors and social media users after she wrote a note threatening to poop on the property of whoever did not pick up after their dogs in her neighborhood.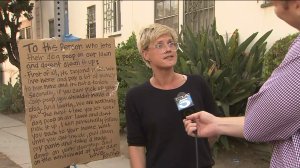 Street artist and muralist Annie Preece wrote the letter "to the person who lets their dog poop on our lawn and doesn't clean it up."
The letter continues, calling the person rude and stating that she will follow them home and defecate on their doorstep and vehicle the next time they are seen allowing their dog to do the same on her property.
"I would never really do this, but it got the point across," Preece said.
Multiple locals told KTLA they agreed with Preece and found the note humorous.
The note was also posted on Reddit Monday, and received 36 comments by the following day.
Full text:
"To the person who lets their dog poop on our lawn and doesn't clean it up: First of all, it's beyond rude. We live here and pay a lot of money to live here and it's not a toilet. Secondly, if you can't pick up your dog's poop, you shouldn't have a dog. And lastly, we are watching you. The next time you let your dog poop on our lawn and don't pick it up, I will personally follow you back to your home, wait until you get inside, pull down my pants and take a huge dump on your doorstep and on the windshield of your car. Love, Annie."