This is an archived article and the information in the article may be outdated. Please look at the time stamp on the story to see when it was last updated.
A motorcycle officer appeared to have been involved in a crash with several other vehicles in Beverly Hills on Monday afternoon.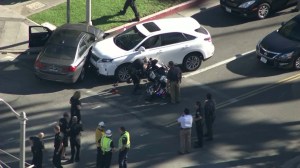 The Beverly Hills Fire Department was responding to a report of a motor officer down just before 1 p.m., a spokesperson confirmed.
Aerial video showed three vehicles that had been stopped following the apparent crash, as well as a police motorcycle on its side.
A white SUV and gold sedan had crashed into each other, and the motorcycle was nearby. Around the corner, a pickup truck was pulled to the side of the road at an angle, but it was unclear if that truck was involved in the collision.
Multiple emergency response vehicles were on scene, as were police patrol cars.
The crash occurred at Doheny Drive and Burton Way (map).
A watch commander with the Beverly Hills Police Department initially had no information about the incident, but the department's Twitter account warned of major traffic congestion in the area.
Traffic Alert: Accident at Burton Way / Doheny Drive. Major congestion Burton way and Doheny, surrounding streets.

— Beverly Hills Police (@BeverlyHillsPD) December 23, 2013
A watch commander later said that a male motor officer had minor injuries; he was transported to a hospital and released. No others involved in the crash were hospitalized, the watch commander said.