This is an archived article and the information in the article may be outdated. Please look at the time stamp on the story to see when it was last updated.
Federal agents raided the Bicycle Hotel and Casino in Bell Gardens Tuesday morning in connection with an ongoing criminal investigation.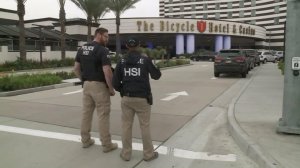 The agents, part of a multi-agency financial crime task force, were serving a federal search warrant, according to a statement from Virginia Kice, a spokeswoman for U.S. Immigration and Customs Enforcement's Homeland Security Investigations.
Unnamed law enforcement sources told the Los Angeles Times the raid was part of an ongoing probe into possible money laundering in which players may have exchanged "dirty money" for chips, in turn cashing those in for "clean money." ICE investigates the smuggling of bulk cash, the Times noted.
Agents entered the casino about 7 a.m. and told gamblers to stop playing and to keep their hands away from the tables, according to Jeff Thomas, a longtime employee in the casino's restaurant.
The casino issued a brief statement through a public relations firm: "We are working with authorities and currently do not have additional information. As soon as the federal agents have completed their work, we will be in full operation."
Authorities told the Times that the casino will be closed until the search is complete, likely by later Tuesday or Wednesday. Hotel guests are being allowed to come and go.
In her statement, Kice said only that search warrant was issued by a U.S. magistrate judge as part of an ongoing investigation.
"Because the warrant is under seal, we are not able to comment on the scope or nature of the investigation," the statement concluded.
An ICE agent on scene emphasized to KTLA that fraud investigators at the casino complex are not part of Enforcement Removal Operations, the agency's team that arrests undocumented immigrants.
The raid was conducted by the Los Angeles High Intensity Financial Crime Area Task Force, which includes the ICE investigations unit as well as IRS Criminal Investigation, the California Department of Justice's Bureau of Gambling Control, and the U.S. Attorney's Office for the Central District of California. All four agencies issued the statement first sent to KTLA by Kice.
The casino, at 888 Bicycle Casino Drive, opened in 1984. In 1990, federal authorities discovered laundered drug money had been used to pay for its construction, the Times reported. After a jury found that more than half the construction money came from Florida drug smuggling, the federal government took over part ownership of the casino for several years. It is now privately owned.