This is an archived article and the information in the article may be outdated. Please look at the time stamp on the story to see when it was last updated.
Los Angeles police were searching for at least one shooter after a bicyclist was gunned down on a residential street in the Mid-City area early Wednesday, authorities said.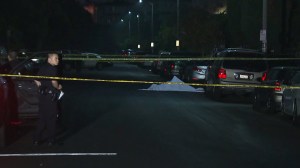 Officers responded to the 1700 block of Longwood Avenue at approximately 3:35 a.m. and found the bicyclist dead from an apparent gunshot wound to the head, according to Lt. John Radtke of the Los Angeles Police Department.
Neighbors told KTLA they heard two gunshots and then silence, though witnesses told police they possibly heard the sound two male voices and a vehicle following the shooting.
The victim, whom Radtke described only as a black male in his mid-20s, was pronounced dead at the scene.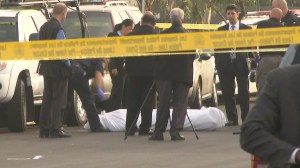 A white sheet covered the man's body and his bicycle in the hours after the shooting occurred, video from the scene showed.
Homicide detectives were in the midst of conducting an investigation into the crime, and a motive for the shooting has yet to be determined, according to Radtke.
At an early morning news conference, the lieutenant implored anyone with information about the shooting to come forward and contact LAPD.
"The victim has not been identified, no suspects were seen and we really need help from the public on this case," Radtke said.
Witnesses have been asked to leave tips by calling Crime Stoppers at 800-222-8477.