This is an archived article and the information in the article may be outdated. Please look at the time stamp on the story to see when it was last updated.
Police are searching for a hit-and-run driver who fatally struck a bicyclist in Fountain Valley early Wednesday morning.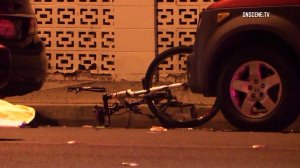 The victim was riding his bike northbound on Brookhurst Street just sout of Ellis Avenue about 12:54 a.m. when he was struck, Fountain Valley Police Department Sgt. Donald Farmer said.
Video from the scene showed the victim's bike ended up about 50 or 60 feet from the crash site.
The bicyclist died at the scene, Farmer said. He was identified by the coroner's office as Binh Ngo, 41, of Fountain Valley.
Police are searching for a late model Ford Mustang, possibly red, with front end damage that was involved in the crash.
No description of the driver was immediately available.
Investigators are searching for any surveillance video that may help identify the driver.
KTLA's Alexandria Hernandez contributed to this report.