This is an archived article and the information in the article may be outdated. Please look at the time stamp on the story to see when it was last updated.
A bicyclist who was fatally struck in by a luxury SUV in a South Los Angeles hit-and-run crash earlier this week has been identified.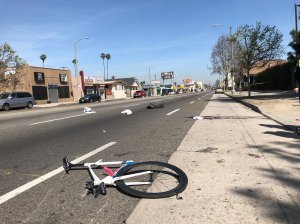 Frederick Frazier was hit near the intersection of Manchester and Normandie avenues, right on the border of the neighborhoods of Manchester Square and Vermont Knolls about 12:45 p.m. Tuesday.
Frazier, 22, was apparently struck by a white Porsche Cayenne SUV that was traveling at a high-rate of speed then fled the scene.
Police said the vehicle should have damage to the front bumper, grill, hood and windshield.
A photo of the scene tweeted by Los Angeles Police Capt. Jonathan Tom showed a white bike in the street with its handlebars and back wheel missing. Other debris was strewn across the street behind it, the photo showed.
Tom also tweeted that a $50,000 reward is being offered for information leading to the arrest, capture and prosecution of the person responsible. He urged the driver to turn him or herself in.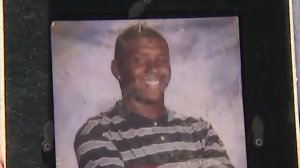 Anyone with information about the crash can call LAPD detectives at 323-421-2500 or submit an anonymous tip via 800-222-8477.
Frazier's friend was hit by a driver who ran a red light where a vigil was being held for the fallen bicyclist Wednesday. The victim appeared to be OK as he got up and limped his way to the sidewalk where people ran to his side, video taken by a KTLA reporter showed.
The driver did not stop and police were looking for the car. Other pedestrians, including a KTLA news photographer and a dog, were narrowly missed by the driver.
The victim's name is Frederick Frazier. He was only 22yrs. We appreciate any help the biking community can give us.

— Jonathan Tom (@CaptainJonTom) April 11, 2018