This is an archived article and the information in the article may be outdated. Please look at the time stamp on the story to see when it was last updated.
A bicyclist who was struck and killed by a sheriff's patrol car in Calabasas was identified Monday a 65-year-old Milton Olin Jr. of Woodland Hills, authorities said.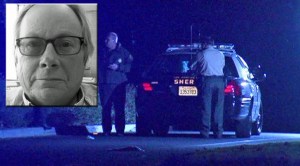 Olin, a well-known entertainment lawyer who had been an executive at Napster and A&M Records, was traveling eastbound Sunday in the 22000 block of Mulholland Highway (map) at 1:05 p.m. when the bicycle he was riding "collided with" the patrol car, according to a news release from the Los Angeles County Sheriff's Department.
The deputy's vehicle was moving in the same direction as Olin, according to Lt. Michael Williams of the sheriff's Malibu/Lost Hills Station.
The stretch of Mulholland Highway where the crash occurred has a painted bike lane, according to a map of bikeways from the Los Angeles County Department of Public Works.
The patrol car's windshield was visibly shattered, video from the scene showed. The car was towed from the scene.
Olin was pronounced dead at the scene, Williams said. The deputy was transported to a hospital with minor injuries, according to the sheriff's news release.
Olin's bio page on the website of U.S. Equity Holdings, where he was an advisor, states that he was a founding partner at the law firm Altschul & Olin, and had been chief operating officer of the file-sharing service Napster Inc. The Napster position came after a 14-year career at A&M Records.
The unidentified driver of the Los Angeles County sheriff's vehicle was transported to a hospital after suffering minor injuries, the Sheriff's Department said.
The cause of the collision remains under investigation, and authorities had remained on scene after sundown Sunday.
Anyone with information was encouraged to contact the Los Angeles County Sheriff's Department's Lost Hills/Malibu Station at 818-878-1808. Those who wish to remain anonymous may call Crime Stoppers at 800-222-8477.
KTLA's Melissa Pamer contributed to this report.