This is an archived article and the information in the article may be outdated. Please look at the time stamp on the story to see when it was last updated.
The 21-year-old alleged hit-and-run driver who struck and killed a bicyclist in Highland Park early Friday morning was still drunk and had windshield debris in his hair when he was arrested hours later, according to LAPD.
The collision occurred just after 3 a.m. when two bicyclists were crossing in a marked crosswalk near North Figueroa Street and Marmion Way (map), Los Angeles Police Department officials said.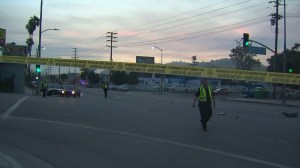 Witnesses told officials the vehicle was traveling around 80 mph when it struck one of the cyclists, who had the right-of-way and were crossing with a green light. The cyclist was dragged for hundreds of feet, police said.
The coroner's office said the victim was a 33-year-old man, but his identity was not being released until his family could be notified.
"The callous actions of this driver allowed him to flee without as much as flinching an eyeball – or stopping," said LAPD Central Traffic Division Detective John Meneses.
The man arrested was identified as Alexis Virto, 21, at a 2 p.m. police news conference in downtown L.A. He was booked on suspicion of one count of second-degree murder and felony driving under the influence with great bodily injury, police said.
Investigators were tipped to the damaged, abandoned vehicle by a witness, and a license plate record led them to a home just a few blocks away. Virto, the registered owner, was found asleep in a back bedroom with his girlfriend, police said at the news conference.
The girlfriend told investigators Virto was the only person in the car, according to police.
The car had the victim's "biological matter" on it, police said.
Virto, who was adamant he was not the driver, was heavily intoxicated when he was arrested, according to police. Online county inmate records indicated Virto was taken into custody at 7:15 a.m., a little over four hours after the crash.
Virto had windshield debris in his hair and injuries that matched a crash, Meneses said.
Early Friday, an LAPD captain at the scene said witnesses described the car speeding up Figueroa at the time of the crash.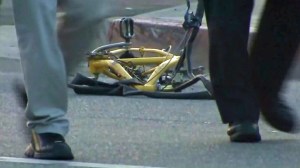 "That vehicle continued northbound, lost its bumper … but it dragged the deceased man's body several hundred feet up the street and then continued going," police Capt. Jeff Bert said. 
A black bumper was left lying in the road, video showed.
The fleeing vehicle had been described as black, possibly being a Nissan sedan, Sgt. Frank Gonzalez said.
One witness said she thought the driver would stop.
"When the car just came, he was really, really fast," witness Judy Lara said. "He just hit the guy. I was thinking he was going to stop. He never stopped."
Bert indicated some 50,000 to 60,000 vehicles drive through the area daily; L.A. Department of Transportation figures from 2011 showed about 21,000 vehicles per day on Figueroa Street at Avenue 37, the closest intersection for which data was available.
Figueroa Street has been a particular concern for cyclists since L.A. City Councilman Gil Cedillo, who represents Highland Park, last summer brought a halt to city-planned northbound and southbound bike lanes on a 3-mile stretch of the busy roadway. Cedillo, who said he was concerned bikes lanes would slow emergency vehicle response times, has been a target of some outspoken cycling activists since then.
Cedillo did not respond to a KTLA request for comment.
The Los Angeles Times reported that its review of crash data for the street found 68 car-versus-bike collisions from 2002 to 2012 between Avenue 26 and York Boulevard, with 153 events between cars and pedestrians during the same period, including nine fatal crashes. The time period also corresponds to a surge in the number of hit-and-run crashes involving cyclists, the newspaper reported, citing California Highway Patrol data.
Reaction to the fatal crash in Highland Park was angry on the Facebook group Figueroa for All, which has advocated for the bike lanes.
The Los Angeles County Bicycle Coalition issued a statement on Friday crash, calling for changes to the design of the roadway and citing crash figures.
"Right now, Figueroa is designed for speed, not safety, and drivers — whether drunk or sober — go too fast for a neighborhood with so many people walking and biking," said coalition Executive Director Tamika Butler, a Highland Park resident. "We call on the City of Los Angeles to resume progress on making Figueroa a complete street."
KTLA's Geoff Peters contributed to this report. 
Correction: An earlier version of this article provided the wrong name for the LAPD captain. The story has been updated. 
More Video: