This is an archived article and the information in the article may be outdated. Please look at the time stamp on the story to see when it was last updated.
Police are searching for a hit-and-run driver who struck and killed a bicyclist in Torrance Monday morning.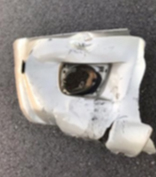 The incident was reported about 5 a.m. in the area of Hawthorne Boulevard and 227th Street, Torrance Police Department Sgt. Ronald Harris said.
Responding officers found the victim, identified only as a man, still lying in the street and not breathing.
He was pronounced dead at the scene after CPR attempts were unsuccessful, Harris said.
Investigators are searching for the driver of a tan or light gold colored 2006 to 2009 Toyota 4-Runner that fled the scene following the crash.
A portion of the Toyota's damaged front bumper was found at the scene. Police released an image of the part they found.
Detectives also uncovered surveillance video that they believe shows the vehicle at about 4:45 a.m., but the footage was not released to the public.
No description of the driver was immediately available.
The northbound lanes of the Hawthorne Boulevard between 230th Street and 227th Street were temporarily shut down during the investigation.