This is an archived article and the information in the article may be outdated. Please look at the time stamp on the story to see when it was last updated.
A bicyclist was shot in the upper body while riding in Santa Ana Monday morning, police said.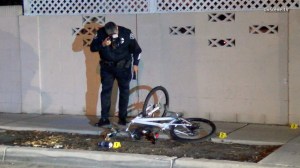 Authorities found a male victim after receiving a shots fired call at about 2:45 a.m., said Cmdr. Sorenson with the Santa Ana Police Department.
Video showed a man being placed in an ambulance in the 4700 block of McFadden Avenue.
The victim told police he was riding his bike when a vehicle pulled up along side him and opened fire, Sorenson said.
He told authorities he heard four to five gunshots and had been hit in the "upper body."
Rescue crews transported the man to a local hospital with injuries that were not expected to be life-threatening, Sorenson said.
No description of the shooter's vehicle was immediately available.
It was unclear if the shooting was gang related, according to Sorenson.
KTLA's Geoff Peters contributed to this report.