This is an archived article and the information in the article may be outdated. Please look at the time stamp on the story to see when it was last updated.
Authorities are investigating a hit-and-run crash that left a bicyclist dead in Stanton Wednesday morning.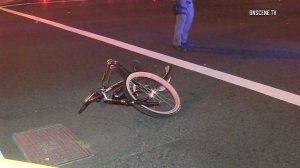 The crash occurred about 2:40 a.m. when a man on a bike was struck by a vehicle near the intersection of Beach Boulevard and Chapman Avenue, Orange County Sheriff's Department Lt. Nathan Wilson said.
The man was taken to a local hospital, where he later died from his injuries, Wilson said.
The vehicle involved in the incident was described as either champagne or gold in color.
Authorities have detained one person in connection with the investigation.
KTLA's Stephen Acosta contributed to this report.