This is an archived article and the information in the article may be outdated. Please look at the time stamp on the story to see when it was last updated.
A group of bicyclists pedaled from Bell Gardens to a courthouse in downtown Los Angeles Tuesday to show support for a friend who was killed by a hit-and-run driver.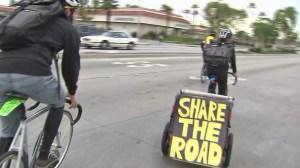 The cyclists left Bell Gardens around 7:15 a.m. to attend a pre-trial hearing for accused hit-and-run driver Wendy Villegas two hours later.
Villegas, 21, was charged with driving under the influence, felony manslaughter and hit-and-run in September in connection with the death of Luis "Andy" Garcia, according to the Los Angeles Police Department.
Garcia's mother, Carmen Tellez, rode with the bicyclists Tuesday in honor of her son.
"We would like tougher penalties for hit-and-run and DUI," Tellez said.
Garcia and two other bicyclists were struck from behind by a Toyota Corolla on the night of Sept. 14, 2013, on the Cesar Chavez Bridge in Boyle Heights.
The vehicle did not stop, and dragged Garcia several hundred feet, witnesses said. Then an approaching vehicle failed to see him in the road and struck him again.
Garcia died and his two friends were injured in the collision. An all-white "ghost bike" memorial was erected at the site where Garcia was hit.
A witness who noted Toyota's license plate alerted the LAPD, and Wendy Villegas was arrested the next morning.
Garcia had just recently moved to Los Angeles, relatives said.
"For his life to be cut short like this, there's just no words to describe it," Tellez said. "Hopefully justice will be served for my son and other victims of hit-and-run."
A Facebook invitation for Tuesday's ride read, "CALLING ALL CYCLISTS, Come out and support our fallen rider(s) as we go to court and fight for justice, better laws, and RESPECT for cyclists. THE MORE RIDERS THAT FILL THE COURT ROOM THE BETTER."