This is an archived article and the information in the article may be outdated. Please look at the time stamp on the story to see when it was last updated.
A violent thunderstorm near Barstow pounded Interstate 15 with heavy rains and high winds on Tuesday.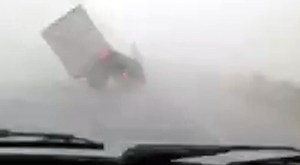 The storm hit the area  just after 5 p.m., creating treacherous driving conditions.
The weather might have been too much for the driver of a big rig.
Video from a KTLA viewer caught in the sudden storm showed the truck topple over on the rain-slicked freeway.
No one was injured in the crash, but two southbound lanes were shut down because of leaking diesel fuel, according to the CHP.
The cause of the crash was under investigation.