This is an archived article and the information in the article may be outdated. Please look at the time stamp on the story to see when it was last updated.
A big rig carrying a payload of crushed glass crashed and overturned Monday morning in Boyle Heights, temporarily blocking all lanes on the transition road from the southbound 5 Freeway to the eastbound 60 freeway (map).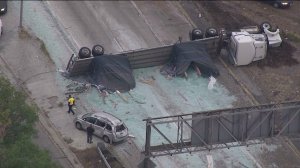 Firefighters responded about 5:54 to the crash, which involved a semitrailer and minivan, said Erik Scott, spokesman for the Los Angeles Fire Department.
No one was injured in the collision, Scott said.
The incident left the connector covered with piles of glass, aerial video showed.
California Highway Patrol officers were seen redirecting traffic at the scene immediately after the crash.
The CHP issued a SigAlert that lasted almost five hours. All lanes were reopened by 11 a.m., the Highway Patrol said.
SIGALERT CANCELLATION IN LOS ANGELES: SB I-5 TRANSITION ROAD TO EB SR-60/SB-I-5, ALL LANES ARE OPEN

— CHP PIO - LA County (@CHPsouthern) May 18, 2015