This is an archived article and the information in the article may be outdated. Please look at the time stamp on the story to see when it was last updated.
A big rig crashed into a Garden Grove apartment building, prompting at least one person to be hospitalized Monday, a Fire Department spokesman said.
The crash occurred some time after 3 p.m. near the Haster Street off-ramp from the 22 Freeway, according to Capt. Thanh Nguyen with the Garden Grove Fire Department.
The truck driver was transported to UCI Medical Center in unknown condition, a news release from the Fire Department stated.
Six apartments were identified as damaged, but that number could go up, Nguyen said.
Building inspectors later determined that 16 apartments were uninhabitable due to either structural compromise or utilities affected, a news release from the Fire Department stated.
The Red Cross was able to find shelter for the residents affected.
Aerial video from Sky5 showed the big rig had crashed into the building near the end of the off-ramp from the westbound freeway.
The truck apparently crossed Haster Street and continued into the Moss Creek Apartments.
"It was scary. Gas was all over the place," resident Rickie January said. "It was bad. Normally, kids are coming out (at) this time."
KTLA's Scott Williams contributed to this article.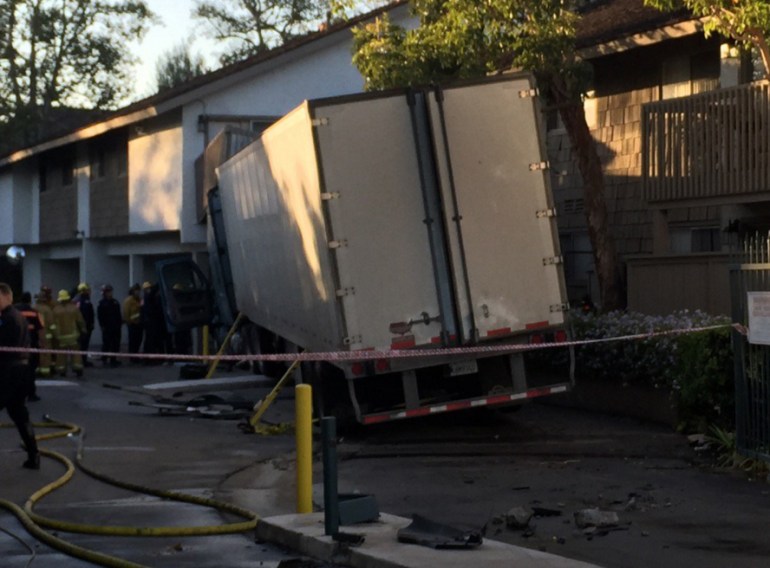 More video: