This is an archived article and the information in the article may be outdated. Please look at the time stamp on the story to see when it was last updated.
All lanes of the 405 Freeway near Mulholland Drive reopened Tuesday morning after a fiery big rig crash that sent four people to the hospital, including two who remain in critical condition, officials said.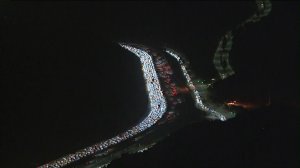 The crash happened when a truck carrying concrete collided with a vehicle in the Sepulveda Pass on the northbound 405 just before 3 p.m., according to CHP.
Video from the scene shows a car crushed underneath the truck, which had overturned near the center divider. Large chunks of rocks and other debris spilled over onto the southbound lanes.
A few members of ROTC at UCLA happened to be passing by the incident and they helped pull the driver out of the Honda that was crushed by the truck, officials said.
"I truly believe they saved his life…To them, we say thank you very much," CHP Sgt. Jose Ahumada told KTLA.
Earlier in the day, a CHP official had misidentified them as National Guardsmen and said the Honda was actually a Mitsubishi until that information was later corrected.
At the scene of the crash, the driver of the truck was able to get himself out and was transported to a hospital complaining of neck and back pain, police said.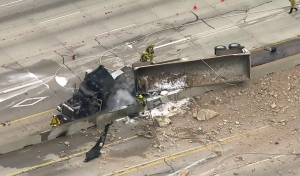 Another motorist who hit rocks following the crash suffered a broken arm and was also hospitalized, according to police.
A SigAlert was issued at 3:06 p.m. Firefighters appeared to have extinguished the flames by around 3:20 p.m.
Traffic backed up for miles behind the crash, and multiple lanes were shut down. The northbound freeway's left three lanes and carpool lane were closed earlier in the evening, as the California Department of Transportation tweeted at 8:24 p.m.
CHP said L.A. County health officials were determining whether any fuel was spilled and that it expected lanes to remain closed for several more hours.
The SigAlert was canceled and all freeway lanes were reopened just after 12:15 a.m., Monday, the CHP tweeted.
Authorities have not released details as to what might have caused the crash.
https://twitter.com/CaltransDist7/status/991128240591851520
Big rig crash: 1 lane getting by on SB side of 405; 3 lanes on NB side. Both backed up for miles. @Sky5Tim says "This is done for the night," take alt routes. https://t.co/kcav2KoXKj pic.twitter.com/gqLnzfYX5S

— KTLA (@KTLA) April 30, 2018
@KTLA pic.twitter.com/pr5zGofxeR

— A$AP Rich (@bradykobefan) April 30, 2018
@KTLA @CBSLA right now on the 405 north and close to 101 pic.twitter.com/iLXiZqoVO6

— A$AP Rich (@bradykobefan) April 30, 2018
https://www.instagram.com/p/BiNik7QFKeg/