This is an archived article and the information in the article may be outdated. Please look at the time stamp on the story to see when it was last updated.
A big rig slammed into a pole and got tangled in power lines after rolling over in a multi-vehicle collision on the 5 Freeway in Castaic late Wednesday night.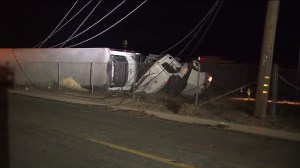 The crash occurred about 11:12 p.m. near the Parker Road off-ramp, the California Highway Patrol stated on their traffic incident log.
About 200 feet of chain link fence and a power pole were knocked down during the crash, video from the scene showed.
Downed power lines entangled the big rig and were strewn across the freeway following the crash.
The truck was also leaking gas onto the roadway at one point, according to the CHP.
The driver of the truck was taken to a local hospital in unknown condition.
Two or three other vehicles were also involved in the crash, but there was no immediate word on the conditions of the people in those vehicles.
Authorities issued a SigAlert for the closure of all northbound and southbound freeway lanes at Parker Road.
Northbound traffic was being diverted at Hasley Canyon, according to the CHP.
The southbound lanes reopened at 12:24 a.m., but northbound lanes remained closed until 3:30 a.m.
Southern California Edison crews were still at the scene working to repair the power lines as of 6 a.m., video showed.
The freeway will need to be closed again at some point Thursday afternoon to re-string the lines across the roadway, according to an official at the scene.
The cause of the crash was under investigation.