This is an archived article and the information in the article may be outdated. Please look at the time stamp on the story to see when it was last updated.
An overturned big rig that prompted the temporary closure of the westbound 210 Freeway in Pasadena Thursday morning also stopped the Metro Gold line through the area when a portion of the trailer landed on the tracks.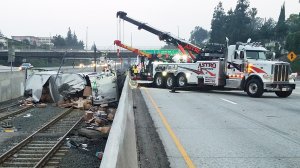 The multi-vehicle crash was reported near Lake Avenue about 1:28 a.m., according to the California Highway Patrol's traffic incident log.
The driver of a FedEx truck said someone hit him from behind and spun out on the freeway.
The driver of that vehicle apparently abandoned the car in lanes and a second FedEx truck swerved to avoid it, officials at the scene said.
That big rig driver lost control and the truck slammed into the center divider.
The cab of the truck overturned in lanes on the freeway, while part of its trailer landed on the tracks of the Metro Gold line.
One person, later determined to be the driver of the overturned FedEx truck, was transported to a local hospital following the crash, according to CHP Officer Polizzi.
The driver's injuries were said to be minor, according to officials.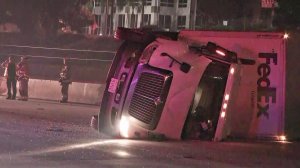 Officials temporarily shut down the westbound lanes to traffic and stopped trains from traveling through the area.
Trains will be running every 10 to 15 minutes on either end of the incident area, Metro tweeted. Buses will be used to take passengers past the crash site.
Officials managed to open two westbound lanes at about 2:20 a.m., but traffic delays continued to increase through the morning as crews worked to remove the trailer from Metro tracks.
The trailer was finally lifted out by 9 a.m., however, packages that spilled out of the truck still covered the tracks and work crews kept the majority of the freeway lanes closed.
The freeway was completely reopened about 10:38 a.m., however it was unclear when train service would resume.
SIGALERT CANCELLATION IN PASADENA: WB I-210 AT LAKE AVE - ALL LANES OPEN

— CHP PIO - LA County (@CHPsouthern) April 26, 2018