This is an archived article and the information in the article may be outdated. Please look at the time stamp on the story to see when it was last updated.
Powerful downpours that hit the Mojave area Thursday left nearly 200 vehicles trapped overnight in debris flows that covered Highway 58, forcing the closure of the roadway as crews worked Friday to clean up the mess.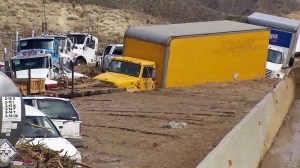 Mudflows started early Thursday evening, leaving 115 passenger cars, 75 big rigs and two tour buses stuck, according to the California Highway Patrol.
Aerial video from Sky5 showed vehicle after vehicle stuck hood-deep in mud and debris that came to a stop on the roadway near the Cameron Canyon Road exit (map), in Kern County about 75 miles directly north of downtown Los Angeles.
Rescuers probed mud up to 6 feet deep to try to find vehicles that might have been hidden, CHP Officer Steve Carapia said on scene.
"They were probing to make sure there was no vehicles underneath the mud and, hopefully, no casualties," Carapia said.
No injuries had been reported as of midday Friday.
Big-rig driver Jared Patterson, who stayed overnight with his vehicle, said the roadway turned dangerous within 45 seconds after traffic came to halt amid the storm. Then the embankment next to the highway collapsed, he said.
"It was a like a big river just smashed on through. … Cars started floating around," Patterson said. "First thing I did was pray. 'God help me, please.' I was watching the cars float around just hoping nobody would get hurt. It's pretty scary."
The packed mud and stuck vehicles prompted the closure of State Route 58 from Towerline Road to exit 165 in Mojave, the Kern County Sheriff's Office said. That stretch of roadway is nearly 45 miles long.
Traffic was backed up for miles, video showed.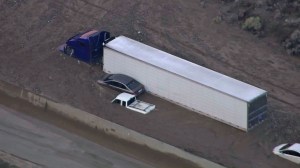 Crews in excavators and bulldozers were seen working to clear the mud, but the cleanup effort could take three days, Carapia said.
However, threatening clouds suggested that additional severe weather could delay efforts, he said.
Another flash-flood watch was issued for the area through Friday evening, the National Weather Service's Hanford Office said.
"Please, stay away from the area," Carapia said. "Keep in mind that … it is going to be a wet weekend."
Like Patterson, truck driver Jose Vargas was traveling on Highway 58 when the flash-flood moved violently across the roadway. He captured the event on video.
Vargas could be heard in the video asking someone to call 911 as the road in front of him was transformed into a rushing river.
Vargas managed to escape the flood waters and eventually made his way to a shelter, according to posts on his Facebook page.
Shelters had been opened in Mojave and Tehachapi, the Sheriff's Office said.
Carapia urged driver to ensure their vehicles were prepared to travel safely in a storm, and advised keeping cellphones fully charged in case there's a need to call for help.