This is an archived article and the information in the article may be outdated. Please look at the time stamp on the story to see when it was last updated.
High-surf warnings remained in effect Thursday evening for all coastal areas from Los Angeles County to San Luis Obispo County, after a day of crashing waves that attracted surfers and unnerved some beachgoers.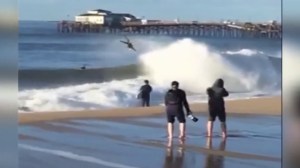 After pounding west-facing coastlines on Southern and Central California, "large and damaging" surf will begin to subside on Friday, according to the National Weather Service.
In Los Angeles County on Thursday, 10-to-14-foot waves, with sets to 16 feet, were predicted by the agency.
Surfers at Seal beach, including Brian Cicerone, reported waves as high as 15 feet.
Cicerone said he was "just getting tossed out there, just somersaulting around." He compared the turbulent waters to "a washing machine."
Six-to-eight feet waves, with sets to 10 feet, are expected Friday, the Weather Service said.
The waves are likely to cause significant beach erosion, and damage to coastal structures, according to the agency, while sneaker waves may suddenly wash over previously dry sand, rocks or jetties near the water's edge.
With the large surf and strong currents comes an increased risk of drowning, the Weather Service warned.
On Friday morning, minor coastal flooding will be possible during high tide — between 7:30 a.m. and 8 a.m. — in areas such as beach parking lots, forecasters said.