This is an archived article and the information in the article may be outdated. Please look at the time stamp on the story to see when it was last updated.
Tech industry luminary Bill Gates has suggested that Apple is mischaracterizing its fight against an FBI request to unlock the iPhone of deceased San Bernardino shooter Syed Farook.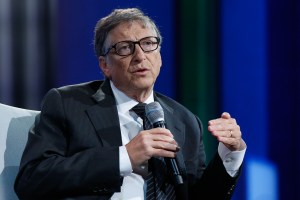 "It is no different than … should anybody ever have been able to tell the phone company to get information … should anybody be able to get at bank records," the Microsoft founder said in an interview with the Financial Times. "There's no difference between information."
Apple CEO Tim Cook has vigorously opposed the FBI's demand, saying the government is asking the company to "hack our own users and undermine decades of security advancements that protect our customers." Breaking into the smartphone, Cook claims, requires building a backdoor that "could be used over and over again, on any number of devices."
The tech industry has rallied around Apple as it resists the FBI's order. Google, Twitter and Facebook have all backed the company. But Gates appears to see the issue differently.
"This is a specific case where the government is asking for access to information. They are not asking for some general thing, they are asking for a particular case," Gates said.
FBI Director James Comey has described his agency's request as "limited."
"We simply want the chance, with a search warrant, to try to guess the terrorist's passcode without the phone essentially self-destructing and without it taking a decade to guess correctly," he said. "That's it. We don't want to break anyone's encryption or set a master key loose on the land."
Gates is still on Microsoft's board of directors, but he's no longer involved in running the software giant day to day. Although the company hasn't issued its own official statement on the Apple case, it is a member of the Reform Government Surveillance alliance.
That group of companies, which also includes Yahoo and AOL, put out a statement last week saying that "technology companies should not be required to build in backdoors to the technologies that keep their users' information secure."