This is an archived article and the information in the article may be outdated. Please look at the time stamp on the story to see when it was last updated.
A sweeping measure that would establish government-run universal healthcare in California cleared its first legislative hurdle Wednesday as scores A of supporters crammed into the Capitol to advocate for a single-payer system.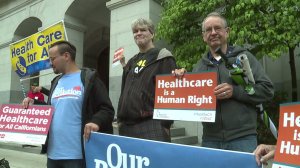 The Senate Health Committee approved the measure on a 5-2 vote after a nearly three-hour hearing, but Democrats and Republicans alike signaled unease with the major question still unanswered in the legislation: how the program would be paid for.
The bill, SB 562, would establish a publicly run healthcare plan that would cover everyone living in California, including those without legal immigration status. The proposal would drastically reduce the role of insurance companies: The state would pay for all medical expenses, including inpatient, outpatient, emergency services, dental, vision, mental health and nursing home care.
The measure says the program would be funded by "broad-based revenue," but does not specify where that money would come from.
Read the full story on LATimes.com.
Sincerest thank you to @senricardolara, @CalNurses & everyone who made the trek to Sacramento to support #SB562 #SinglePayer! Onward! pic.twitter.com/ccy6nGnv93

— Senator Toni Atkins (@SenToniAtkins) April 27, 2017
https://twitter.com/melmason/status/857344885690474497
https://twitter.com/melmason/status/857343837286481920