This is an archived article and the information in the article may be outdated. Please look at the time stamp on the story to see when it was last updated.
Dozens of birds and reptiles had to be rescued from a pet store in Lennox after a fire erupted early Tuesday morning.
Officials received 911 calls about 2:32 a.m. reporting a commercial building fire in the 4400 block of Lennox Boulevard, said Inspector Randall Wright of the Los Angeles County Fire Department.
Fire crews arrived to find heavy smoke rising through the roof of a one-story pet store, Wright said.
The blaze was limited to the pet store and did not damage any of the surrounding buildings, Wright said.
Firefighters began pulling animals out of the store as soon as the flames were extinguished.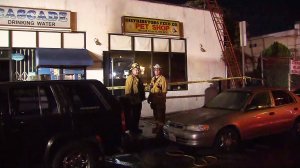 There were about 200 reptiles, birds and other small animals in the store, Wright said.
Most of the animals were OK, but about 30 died in the fire, Wright said.
Animal control was at the scene to work with the owner and make sure the surviving animals had a place to go, Wright said.
No one was inside the store at the time of the fire, and no firefighters were injured, Wright said.
The cause of the fire was found to be electrical, according to a tweet from the Fire Department.
*UPDATE* #LENNOXIC Firefighters knocked down the fire in 25 minutes with no injuries. Investigators found the cause to be electrical pic.twitter.com/ZgKax4gy6Z

— L.A. County Fire Department (@LACoFDPIO) October 25, 2016