This is an archived article and the information in the article may be outdated. Please look at the time stamp on the story to see when it was last updated.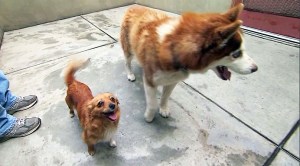 FONTANA, Calif.  (KTLA) — Two Southland dogs share an inseparable bond. One is blind, and the other is his guide. Both need a new home.
Animal welfare workers say Isaac and Isabella were found together wondering the streets of San Bernardino County on Monday.
Isaac is a blind Husky, and Isabella — his spunky small Terrier mix friend — also serves as his seeing eye dog.
Without Isabella, Isaac can't get around, and he also gets very scared and nervous.
"It's just really remarkable how she's always trying to be aware of where Isaac's at and you know if he's not right behind her, she'll stop and wait for him to catch up with her," says Lindsey Riggins, of the Hermosa Animal Hospital. "It's really funny, and just like I've never seen anything like it before."
The pair had been scheduled to be put down. Now, the STAND Foundation, which rescues neglected pets, is looking for someone to adopt the dogs as a unit.
"She keeps her eye on him at all times, like a little pilot fish," says Dan Guss, of STAND. "There is a work relationship between these two and there is a love relationship between these two,"
"How they know what the other needs and what the other is saying — it's amazing. It's like an old couple that's been married for 60 years, and they just know what's going on with the other person."
If you want to help, send contributions to the STAND Foundation at P.O. Box 5921, Sherman Oaks, CA 91413.
You can also email info@standfoundation.org for more information on adoption or go to their Facebook page.