This is an archived article and the information in the article may be outdated. Please look at the time stamp on the story to see when it was last updated.
A blind man was recovering Friday after he fell into the path of an oncoming Metro Red Line train in  Koreatown and suffered only minor injuries, officials said.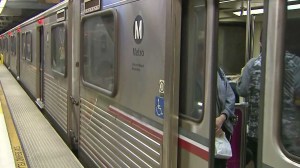 The man tumbled onto the tracks Thursday as an oncoming train arrived at the Wilshire/Vermont subway station, according to the Los Angeles County Metropolitan Transportation Authority.
"It really is a miracle," Metro spokesman Paul Gonzales told the Los Angeles Times. "It's something you only see on TV."
The operator of the train saw the man standing on the edge of the platform and honked the train's horn to warn him, but it was too late, according to Metro.
Moments after the mishap, witnesses captured cell phone video of onlookers asking the man how he was doing.
He fell into a space on the track bed, and the train passed directly over him, Metro officials said.
He was trapped for about twenty minutes until members of the Los Angeles Fire Department pulled him to safety.
The man was transported to Los Angeles County-USC Medical Center, where he was listed in fair condition, according to the LAFD.