This is an archived article and the information in the article may be outdated. Please look at the time stamp on the story to see when it was last updated.
A California man is upset after his service dog was attacked by another passenger's "fake" service dog on the Sacramento Light Rail.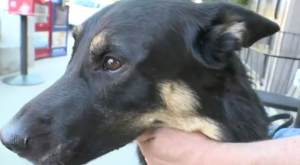 Michael Kelly is blind and gets around using his certified seeing eye dog Kie, who is trained to remain calm in chaotic situations.
"I didn't want a cane," Kelly told KTLA sister station KTXL. "When people see me go by with my dog, it's a totally different vibe."
The incident happened just over a week ago at the Regional Transit Station at 16th and Q streets in midtown Sacramento. Kelly said just as they got on the light rail a pit bull lunged toward Kie and locked it's jaw onto Kie's snout.
"There was a pit bull on his face just latched on," Kelly explained. "My dog started screaming."
Kelly said the pit bull's owner later claimed the dog was a service animal.
When Sacramento police reminded the pit bull's owner that they were monitoring footage from surveillance cameras, the man admitted his dog was a pet, according to KTXL.
Kelly said there's little police can do about the attack, adding that it is "infuriating."
The Americans with Disabilities Act was created to protect people with special needs from discrimination, and makes it illegal for anyone to require special identification for a service anima or ask for the service animal to demonstrate the tasks it's trained to do.
"So many people lie about it that it ruins it for those of us that have a legitimate need," Kelly said.
He added that Kie went right back to work with a mark on his muzzle.
"He's blown off this attack very nicely," Kelly said.