This is an archived article and the information in the article may be outdated. Please look at the time stamp on the story to see when it was last updated.
Six San Bernardino County firefighters were entrapped by flames while battling the raging Blue Cut Fire Tuesday, leaving two of them with minor injuries.
The firefighters were trapped while defending homes and helping with evacuations in the Swarthout Canyon area, west of Cajon Pass, where buildings were seen burning in aerial video from Sky5.
The firefighters were able to shelter in place inside a nearby structure.
The two who were injured were treated and released at a local hospital and are now back fire line, the release said.
They were part of two county engine companies assigned to the area northwest of Cajon Boulevard, the San Bernardino County Fire Department said in a news release.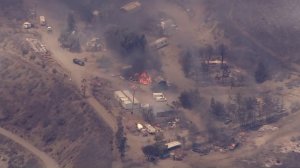 A fire engine sustained moderate damage, the release stated.
As of early Tuesday evening, the Blue Cut Fire had burned 6,500 acres in just over six hours. It began about 10:30 a.m. in the Cajon Pass near the Kenwood Avenue exit off the 15 Freeway.
Amid extremely low humidity, gusty winds high temperatures and a red flag warning, the blaze rapidly consumed drought-stricken brush.
About 750 fire personnel were on scene.
Multiple areas face mandatory evacuation orders that have been expanded throughout the day.
The Fire Department pleaded with residents to heed evacuation orders.
"Residents that refuse to evacuate put their own and other people's lives at risk," the department's news release said.
#BlueCutFire – 6,500 acres w zero containment if you are under mandatory evac pls adhere to the evac orders as the fire is spreading quickly

— San Bernardino County Sheriff (@sbcountysheriff) August 16, 2016