This is an archived article and the information in the article may be outdated. Please look at the time stamp on the story to see when it was last updated.
Firefighters battling the Blue Cut Fire faced another difficult day Wednesday as the massive blaze, which had destroyed homes and forced some 83,000 residents to evacuate.
The only good news came late in the day when the size of the blaze was downgraded from 30,000 to 25,600 acres after fire officials were able to complete a more accurate mapping of the wildfire.
The containment was also updated to 4 percent.
At 10:15 the California Highway Patrol tweeted that the 215/15 northbound connector was set to re-open. Shortly there after, the CHP stated the northbound 15 Freeway would also fully re-open through the Cajon Pass.
The southbound 15 Freeway was expected to remain closed until further notice.
Video showed a number of structures have burned in the fire, but authorities said they could not provide an exact number of buildings destroyed.
Shortly before 2 p.m., Sky5 aerial footage showed the flames heading toward several structures near Lytle Creek in the area of the Mountain Lakes Resort.
San Bernardino County Fire Chief Mark Hartwig, who surveyed the fire zone by air Wednesday morning, described the damage as "devastating."
He told reporters during a morning news briefing that "a lot" of homes have been destroyed.
"There will be a lot of families that come home to nothing," Hartwig said. "If there's a bright side … there are some homes that were saved."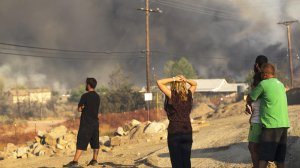 Among the destroyed buildings was the landmark Summit Inn Restaurant in Oak Hills, which burned Tuesday afternoon after standing for 60 years along historic Route 66.
Defending and protecting threatened structures from the fire and establishing containment lines will be the priority for Wednesday, according to the InciWeb page.
"It's challenging when we're up against a fire that is burning so aggressively, that we're really struggling to keep up with it," Cal Fire Unit Chief Glenn Barley said.
More than 1,300 firefighters were on hand to battle the wildfire. Crews are utilizing 152 engines, 18 crews, eight air tankers — including two very large tankers, or VLATs — and eight helicopters in the firefight.
The fire broke out Tuesday at about 10:36 a.m. in the Cajon Pass near Kenwood Avenue, just west of the 15 Freeway.
"It hit hard. It hit fast. It hit with an intensity that we haven't seen before," Hartwig said.
At one point, six firefighters became trapped while defending structures in Swarthout Canyon area west of the Cajon Pass.
The firefighters were able to shelter in place within a nearby structure, but two sustained minor injuries.
"As of right now we're fortunate to say we have not suffered any loss of life to civilians or firefighters," county fire spokesman Eric Sherwin said Wednesday morning.
Cadaver dogs are being sent to check properties along Highway 138, U.S. Forest Service spokesperson Chon Bribiescas told the Los Angeles Times.
A number of residents "made the decision to shelter in place," he said. "The fire came so quickly … we want to make sure nobody was left behind."
The fire also created a traffic nightmare in the area, with dozens of big rigs packing the Pilot Travel Center in Hesperia Wednesday as drivers waited for the 15 Freeway — a crucial connection between Las Vegas and Southern California — to reopen.
The freeway, among the many road closures in the area, was shut down in both directions Tuesday. All northbound lanes were closed at the 215 Freeway, while southbound traffic was stopped at Ranchero, according to the information website.
There was no estimate on when the closures would be lifted.
On Tuesday, Gov. Jerry Brown declared a state of emergency as the fire exploded within the first few hours, charring some 18,000 acres by nightfall.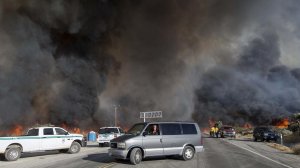 Mandatory evacuations were ordered for about 34,500 homes, affecting some 82,640 people, including the entire mountain community of Wrightwood.
Fire officials urged residents to heed evacuation orders and to get out when they're told.
"If we ask you to leave, you have to leave," said John Miller of the U.S.  Forest Service. "The worst thing that can happen is folks to wait to the last minute, dial 911 and firefighters and law enforcement are unable to get people out of their homes."
Blue Cut Fire: Full List of Mandatory Evacuations, Road and School Closures
Evacuation centers were open at the Jessie Turner Community Center in Fontana and at Sultana High School in Hesperia. Several shelters were also available to those with large and small animals.
The Silverwood Lake State Recreation Center was also closed as a result of the Blue Cut Fire.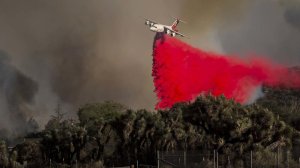 As flames continued to spread rapidly in the area, crews were working at a frantic to contain the massive blaze.
Hot, dry and breezy conditions are forecast, and a red flag warning was scheduled to last though 9 p.m. Thursday.
Temperatures are forecast to top 100 degrees in the fire zone, with humidity falling below 10 percent, said Mike Wakoski, incident commander for the Blue Cut Fire.
The fire is burning through heavy grass and brush in steep, rugged terrain, and Wakoski described the fuels as "extremely dry" and "very explosive."
"In my 40 years of firefighting, I have never seen fire behavior so extreme as it was yesterday," he said. "Rapid rates of spread. We've had spotting up to half a mile ahead of the fire."
Conditions from the ongoing statewide drought in California, which has lasted for more than five years, has also created problems for firefighters.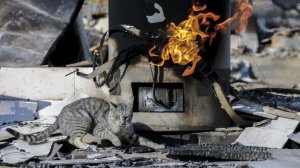 "This is a challenging year," Barley said. "The fires are burning really in an unprecedented fashion.  It's to the point where explosive fire growth is the new normal."
The South Coast Air Quality Management District has extended a smoke advisory for areas directly impacted by the smoke through Thursday morning.
Areas include portions of Northwest San Bernardino Valley, especially near Devore; portions of the Central San Bernardino Mountains, portions of the West San Bernardino Mountains and portions of the Central San Bernardino Valley.
The cause of the fire is not yet known, and investigators are working to determine how it started.
Cal Fire, the San Bernardino County Fire Department and the U.S. Forest Service are in unified command.