This is an archived article and the information in the article may be outdated. Please look at the time stamp on the story to see when it was last updated.
Firefighters were in the third day of their battle against the raging Blue Cut Fire in San Bernardino County on Thursday, as some of the 82,000 people forced to evacuate were allowed back in to see the state of their homes.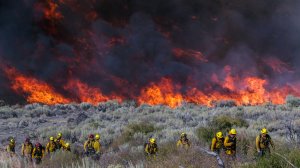 The wildfire has scorched nearly 36,000 acres, or just over 56 square miles, since it broke out in the Cajon Pass, west of the 15 Freeway near the Kenwood Avenue exit about 10:30 a.m. Tuesday.
More than 1,500 firefighters have been called to battle the blaze, which was 22 percent contained as of midday Thursday.
San Bernardino County fire Chief Mark Hartwig said the blaze was a "career fire" for firefighters, as was the 8,110-acre Pilot Fire, which started about 12 miles east of the Blue Cut Fire earlier this month.
"This is what they live for. This is what they train for throughout their whole career, and this is a career fire for most of them," Hartwig told CNN. "You don't get two career fires in two weeks, but those are the kind of conditions we're facing here in San Bernardino County and really in the Southland."
Authorities have said the fire has destroyed "a lot" of homes, but no official number has been released. Some 34,500 structures area threatened in Wrightwood, Oak Hills, Phelan, Lytle Creek, Baldy Mesa, West Cajon Valley, South Hesperia, and Summit Valley, according to the federal incident page for the Blue Cut Fire.
The mandatory evacuation order was lifted at 1 p.m. Thursday for East Oak Hills ad South Hesperia — the area east of the 15 Freeway to Santa Fe/Summit Valley Road, south of Ranchero Road to state Route 138, the county Sheriff's Department announced.
At 6 p.m., the order was lifted for West Oak Hills — for areas west of the 15 Freeway to Baldy Mesa Road, south of Phelan Road to Whitehaven Street and Prairie Trail.
North and southbound Oak Hills offramps will be opening
"We appreciate all the people who evacuated in this area. The Blue Cut Fire is burning very aggressively and at one time posed a real danger to residents living in these areas," the Sheriff's Department said in a news release. "The remaining mandatory evacuations will be lifted as soon as the danger to residents has been reduced."
The 15 Freeway, which was completely shut down Wednesday morning, was reopened to traffic in both directions by 11 a.m. Thursday, Caltrans said.
An estimated 82,640 people have been forced to evacuate their homes, including the entire community of Wrightwood.
Several area school districts also remained closed due to air quality conditions Thursday.
Blue Cut Fire: Full List of Mandatory Evacuations, Road and School Closures
Red flag conditions were expected to remain in effect for the area until 9 p.m. Friday.
Along with the hot and dry conditions, firefighters were likely to have to battle winds of about 20 mph with gusts up to 30 mph Thursday.
The South Coast Air Quality Management District has issued a smoke advisory for areas directly impacted by the smoke through Thursday morning.