This is an archived article and the information in the article may be outdated. Please look at the time stamp on the story to see when it was last updated.
Bobby Chacon, a San Fernando Valley boxer who won world titles in two weight classes, died Wednesday at age 64.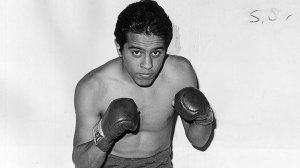 Chacon, who had long suffered from the effects of brain damage, fell and struck his head in a Hemet care facility early Wednesday morning and succumbed to his injuries, said Ricky Farris, president of the West Coast Boxing Hall of Fame.
"One of the most exciting fighters in the history of the West Coast, an amazing blood-and-guts brawler who took on the best fighters in three divisions," Farris said of Chacon, who will be inducted into the West Coast Boxing Hall of Fame on Sept. 25..
Chacon was born Nov. 28, 1951, in Sylmar and trained in Pacoima. A San Fernando High graduate and onetime liberal-arts student at Cal State Northridge, Chacon was nicknamed "Schoolboy" by veteran boxing publicist Bill Caplan.
Click here to read the full story on LATimes.com.