This is an archived article and the information in the article may be outdated. Please look at the time stamp on the story to see when it was last updated.
Two bodies that were found in Joshua Tree National Park are believed to be those of a couple who were last seen in the area in July, according to one of their fathers.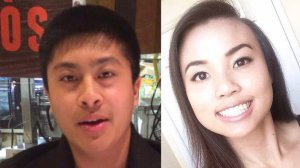 The bodies are expected to be recovered Monday, San Bernardino County Sheriff's Department.
The recovery did not occur Sunday, when the bodies were discovered by a hiker, because of loss of daylight, officials said.
Rachel Nguyen, 20, and Joseph Orbeso, 21, from Orange County, were last seen on July 27, when they did not check out of their Airbnb. They were reported missing the next day and extensive searches began.
Their vehicle, a burgundy Lexus was found near the Maze Loop around the park's west entrance.
Joseph Orbeso's father, Gilbert Orbeso, was with searchers when the bodies were discovered, according to local TV station KESQ.
"After going a long time on these hikes, I feel that we have closure, and we know we found them," he told the station. "That was our main goal, was to find them."
The bodies will be officially identified pending autopsies by the coroner's office, according to the Sheriff's Department.