This is an archived article and the information in the article may be outdated. Please look at the time stamp on the story to see when it was last updated.
Searchers have found the bodies of a missing Valencia father, mother, daughter and son in a flooded Northern California river, sheriff's officials announced Monday.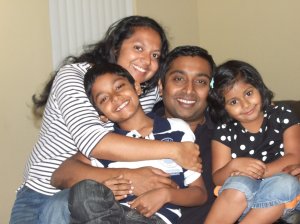 The family's submerged vehicle was discovered about 11:30 a.m. Sunday in the Eel River after a boating team noticed a gasoline smell about half a mile from the reported crash site, Mendocino County Sheriff's Department officials said in an updated news release.
The vehicle was about 4 to 6 feet beneath the water, but visibility was poor and the vehicle was covered in sediment from the river current.
Recovery efforts continued through the morning, until the vehicle was partially removed from the river about 6:30 p.m.
The bodies of  Sandeep Thottapilly, 41, and Saachi Thottapilly, 9, were found inside, officials said. Later in the day, sheriff's deputies announced the discovery of Siddhant Thottapilly, 12, the last family member still missing.
A woman's body, later positively identified as Soumya Thottapilly, 38, was found late last week.
Autopsies to determine the victims' causes of death will be performed later this week.
The family began a trip to Portland, Oregon, in a 2016 Maroon Honda Pilot from their Valencia home on March 30.
They were expected at a family member's home in San Jose on April 6, but they never showed. Relatives reported them missing two days later.
A vehicle matching the description of the one belonging to the Thottapilly family was seen going into the river on April 6, when a massive storm swamped areas of Northern California. That vehicle went over the edge of Highway 101 at mile marker 95.