This is an archived article and the information in the article may be outdated. Please look at the time stamp on the story to see when it was last updated.
A burned male body was found Wednesday morning near Castaic Lake, authorities said.
Los Angeles County Fire personnel, along with deputies from the Santa Clarita Valley Station, responded to the location near Lake Hughes Road about 6 a.m. after a cyclist reported seeing a small brush fire.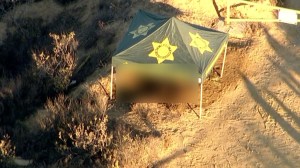 Firefighters extinguished the blaze and made the grim discovery.
Sky5 video showed California Highway Patrol, Los Angeles County Sheriff's Department and fire officials at the scene, which was cordoned off with police tape.
A canopy and privacy barriers were erected to shield the person's remains from view.
In an afternoon press conference, authorities said they still had not identified the body.
"We don't know a whole lot. We'll know a lot more once the autopsy is performed," sheriff's Lt. Dave Dolson said.
Dolson said the body was male, and that was one of the only things investigators knew about the person.
No connection had been made between the body and the search for 19-year-old Bryce Laspisa, a college student from Laguna Niguel who has been missing since last week, an official with the sheriff's Homicide Bureau said.
Laspisa's family members said Wednesday they were waiting for an update from investigators.
Divers searched Castaic Lake on Tuesday, four days after Laspisa's SUV was found nearby. They also searched on Wednesday.
"At this point there's no way we can connect the two because we don't have a positive identification on the body," said sheriff's Lt. Wes Sutton.
Investigators will examine video footage from surveillance cameras located in the area, Sutton said.
Both lanes of Lake Hughes Road remained open.
Check back for more updates on this developing story.