This is an archived article and the information in the article may be outdated. Please look at the time stamp on the story to see when it was last updated.
Authorities were called to Westlake Monday after a body was discovered in the water at MacArthur Park Lake.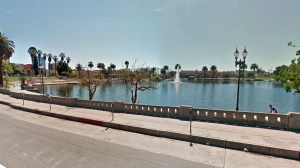 Police received a call about 7:48 a.m. reporting a body floating in the lake, the Los Angeles Police Department's media relations department confirmed.
Fire Department crews were also sent to the lake, located  in the 600 block of South Alvarado Street, to help recover the body from the water, the Los Angeles Fire Department stated on their website.
Police found no immediate signs of foul play on the man's body, the Los Angeles Times reported.
His identity was not released.