This is an archived article and the information in the article may be outdated. Please look at the time stamp on the story to see when it was last updated.
The death of a woman believed to be a UCLA student whose body was found in a burning, smoke-filled apartment Monday morning was being investigated as a potential homicide, according to a news release from university officials.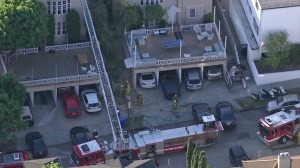 The fire was reported at a two-story apartment building in the 10900 block of Roebling Avenue (map) in Westwood at 7:05 a.m., according to the Los Angeles Fire Department.
"We got the fire extinguisher, but it was just too big to put it out," said student Scott Huh.
Firefighters arrived to find smoke coming from the building, and saw that flames were beginning to spread from a first-floor unit to a second-story balcony.
They learned that someone might still be inside the building, and found an adult female inside the smoke-filled apartment. She was determined to be beyond medical help, according to Erik Scott of LAFD.
There were no bars on the windows or security screens preventing her from escaping, Scott noted.
LAFD arson investigators were working to determine the cause of the fire, and the Los Angeles Police Department was trying to figure out what happened before the blaze.
The UCLA Daily Bruin reported the victim was a psychology and Spanish student entering her fourth year at the university, and neighbors confirmed to KTLA that the victim was a student.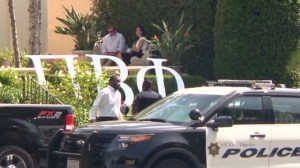 Students were seen crying and hugging outside the building, where many members of the Pi Beta Phi sorority live. A woman at the sorority told the Daily News that the victim was a Pi Beta Phi member.
"We were having fun there and then this happens," student Harrison Shrock said. "I'm pretty shaken up about it."
Police have not identified the victim, nor confirmed if she was a UCLA student.
The university's media relations department did issue a statement Monday night from the chancellor expressing his "deepest condolences" to the woman's family and friends.
"UCLA is a close-knit community, and this tragic event affects us all," Chancellor Gene Block said. "Our grief counselors will continue to meet with those who have been affected by this tragic loss and I encourage anyone who may wish to speak with a counselor to contact UCLA Counseling and Psychological Services."
The school did not release the student's name.
The victim's boyfriend was initially named as a person of interest, but LAPD spokesman said later in the day that was no longer the case.
The fire was knocked down in about 15 minutes by 32 firefighters.
Classes begin Thursday for UCLA's fall quarter.
KTLA's Kennedy Ryan, Jennifer Thang and Alberto Mendez contributed to this report.
More video: