This is an archived article and the information in the article may be outdated. Please look at the time stamp on the story to see when it was last updated.
One person was found dead inside a converted garage that caught fire in the Willowbrook area of South Los Angeles Monday morning.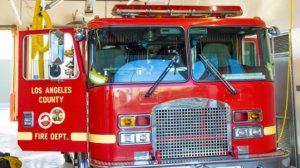 The fire was reported about 3:32 a.m. in the 2100 block of East 124th Street, Los Angeles County Fire Department supervisor Kyle Sanford said.
Arriving firefighters found the garage fully engulfed but worked quickly to extinguish the flames in about 15 minutes, Sanford said.
Inside the garage, which had been converted into a living space, firefighters found the body of one unidentified person, Sanford said.
One other person was treated for breathing problems and possible smoke inhalation at the scene, Sanford said.
The cause of the fire was under investigation.
KTLA's Geoff Peters contributed to this report.