This is an archived article and the information in the article may be outdated. Please look at the time stamp on the story to see when it was last updated.
A homicide investigation was underway Saturday after firefighters extinguished a fire at a Van Nuys apartment building and found a person who may be transgender dead with multiple stab wounds.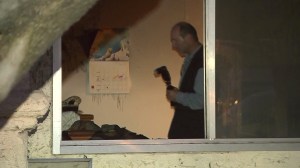 Firefighters responded about 5:06 a.m. to the two-story structure in the 14600 block of Saticoy Street (map), where they entered an apartment unit and "quickly extinguished" the flames, Los Angeles Fire Department spokesman Erik Scott said on Twitter.
A woman's body was discovered with possible stab wounds, said Officer Rosario Herrera of the Los Angeles Police Department.
The victim was later described as a black man in a LAPD news release.
One neighbor told KTLA the person was transgender.
Police later confirmed the victim sustained multiple stab wounds to their torso area, the news release stated. The weapon believed to have been used was recovered at the scene.
A man was being sought in connection with the incident, Herrera said. He was described as black, 5-foot-eight-inches, about 180 pounds and in his mid-20s, according to the news release.
Neighbors  believed the man sought was the victim's boyfriend and said the two had been arguing before the fire broke out. The two were also believed to have recently moved into the area.
Arson units responded to the scene and were investigating the cause of the blaze, the LAFD said.
Fire officials originally provided a Canoga Park address, but later said the incident occurred in Van Nuys.
Anyone with information was asked to contact the Van Nuys detective desk at 818-374-0040. After-hours calls could be made to 818-374-1999.