This is an archived article and the information in the article may be outdated. Please look at the time stamp on the story to see when it was last updated.
Homicide investigators were responding to a South Los Angeles apartment after a man's body was found inside a refrigerator on Tuesday, according to LAPD.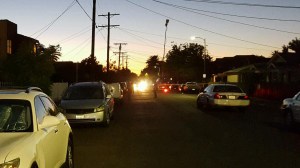 Workers were inside an apartment building in the 600 block of West 57th Street when they found the dead body about 10 a.m., according to Officer Mike Lopez with the Los Angeles Police Department's Media Relations Section.
The victim was a man in his 40s, according to LAPD South Bureau homicide Detective Chris Barling, who was at the scene.
The gruesome find was made in an upstairs unit of a four-plex. There were no signs of forced entry or of a struggle in the home, from which a man had recently been evicted, authorities on scene said.
"There's no obvious signs of a gunshot wound or a stabbing, so we're still trying to determine what caused that death," Barling said. "It's suspicious enough that we're going to treat as a homicide investigation until further information comes to light to where we can really determine what caused his death."
The man who lived in the home had not been identified, nor had the victim. It was not clear if or how they were linked — or if they were the same person.
The body was discovered by workers who clear out homes where the residents have been evicted, Barling said.
Coroner's Lt. Fred Corral said his office was asked by LAPD to come to the scene, which is in the Vermont-Slauson neighborhood.
The coroner's van left with the body in the 6 p.m. hour.
KTLA's Nidia Becerra contributed to this article.
More video: