This is an archived article and the information in the article may be outdated. Please look at the time stamp on the story to see when it was last updated.
A body was found near Tower 7 in Huntington Beach on Thursday afternoon, more than 36 hours after an 18-year-old woman who plunged off the pier disappeared.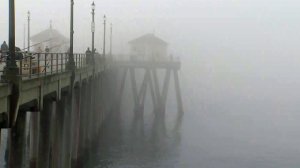 Huntington Beach Police Department spokeswoman Angela Bennett confirmed the deceased person was located on the beach around 12:45 p.m., but she did not identify the individual.
The discovery came a day after the U.S. Coast Guard suspended the search for Jessy Cook. The Coast Guard was notified of her disappearance around 11:40 p.m. Tuesday by witnesses who saw her go into the water before they lost sight of her.
It was unclear whether the young woman fell off the pier or jumped.
Crews from multiple agencies searched nearly 137 square nautical miles for Cook by boat and helicopter, but found no trace her. The search was called off around 10:30 a.m. Wednesday.
No additional information about the discovery of the body was immediately released.
KTLA's Matt Phillips contributed to this story.