This is an archived article and the information in the article may be outdated. Please look at the time stamp on the story to see when it was last updated.
A death investigation is underway after the body of a missing 15-year-old girl was found with a "traumatic" injury in an industrial part of Compton on Monday, authorities said. Homicide detectives responded to the 500 block of West Victoria Street after the discovery of a body was made shortly before 1:30 a.m., according to a news release from the Los Angeles County Sheriff's Department. The victim was identified by the Los Angeles County Department of Medical Examiner-Coroner as Samantha Bustos-Vital. The girl's family contacted KTLA saying she had been missing since Friday after hanging out with friends.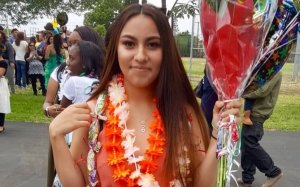 According to sheriff's officials, the teen resided in an unincorporated area of Gardena and was officially reported missing by family members on Sunday. She was found Monday after suffering a "traumatic" injury to her upper torso, the sheriff's release stated. The area where her body was discovered is near the fenced-off Dominguez Hills Industrial Park, a portion of which was cordoned off with yellow crime scene tape throughout the morning, video from the scene showed. National Retail System is located on the property and personnel are cooperating with the investigation, according to Andy Miller, the company's executive vice president. "I got a call early this morning that they had found a body on the perimeter of the property," Miller told KTLA. "We're cooperating with the police in every way possible. They asked for camera footage over a period of time." Detectives told KTLA the girl's body was found face down and concealed in bushes. Coroner's officials have ruled her death a homicide, but the cause was being withheld due to the ongoing investigation, the Sheriff's Department said. It is also unclear exactly how long the body was at the location before being discovered. "They believe it happened sometime Saturday evening," Miller said. Detectives are now trying to identify a suspect or suspects and determine a motive.
Friends & family of Samantha Bustos are holding a vigil in #Compton where her body was found early this AM. The 15-year-old went missing Friday afternoon. Investigators have not released a cause of death but say Samantha suffered a traumatic injury to her upper torso. @KTLA #RIP pic.twitter.com/kLxvIIkHMY

— Carlos Saucedo (@Carlos_Saucedo) March 26, 2019
In an email to KTLA, the victim's cousin said Bustos never returned home after hanging out with friends Friday afternoon, "which is not normal behavior." She didn't answer her cellphone, which was shut off after midnight, according to the cousin. "Day and night, we drove around everywhere looking for her and nothing. At night, I felt something was wrong" the girl's uncle, Junior De Jesus, told KTLA at the spot where Bustos' body was found. The family has set up a
GoFundMe campaign
to help raise money for Bustos' funeral costs. No additional details have been released amid the ongoing investigation. Anyone with information is asked to call the sheriff's Homicide Bureau at 323-890-5500. Anonymous tips can be submitted through Crime Stoppers by dialing 800-222-8477, or visiting the website http://lacrimestoppers.org.
KTLA's Cindy Von Quednow contributed to this story.