This is an archived article and the information in the article may be outdated. Please look at the time stamp on the story to see when it was last updated.
A man suspected of killing two people at separate Moreno Valley crime scenes and shooting at a responding police officer was found dead alongside an assault rifle after a "laborious" hourslong search early Wednesday, the city's police chief said.
The body of the unidentified shooter was recovered after being found in an area off Pigeon Pass Road, the Riverside County Sheriff's Department said on Twitter.
He was believed to be the only suspect in two connected killings that prompted a massive response from police officers, deputies and SWAT team members.
Officers initially responded about 2:30 p.m. Tuesday to a report of shooting at a gas station at Sunnymead Ranch Parkway and Old Lake Drive (map), where an SUV was found with gunshot holes in it and a woman's body inside.
The gunman, who had been seen by police on city surveillance camera feeds, fled, Moreno Valley Police Department Chief Joel Ontiveros said at a news conference 2 p.m. Wednesday.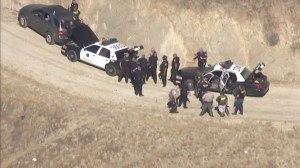 The camera system showed the shooter fleeing north on Pigeon Pass Road in a vehicle that was soon found abandoned, a news release issued later Wednesday afternoon stated.
The gunman, described only as an adult African-American man, was nearby, walking northbound, when an officer attempted to contact him, the release said.
The gunman then opened fire with an assault rifle, Ontiveros said. An "officer down" call brought multiple local law enforcement agencies to the scene as the gunman fled.
The officer was hospitalized with minor injuries and then released; he was hit with "some sort of fragment," but it was not clear if that was a bullet, Ontiveros said.
As a massive search began for the fleeing man with the assault rifle, residents were told to stay in their homes in the area of Pigeon Pass Road (map), which dead-ends in a semirural area east of Box Springs Mountain Park.
Meanwhile, officers responded about 4 p.m. to another crime scene about 5 miles away in the 25000 block of Delphinium Avenue (map). There, a man was found killed.
At the gas station, officers had found the body of a woman who later identified as 74-year-old Wilma Patterson.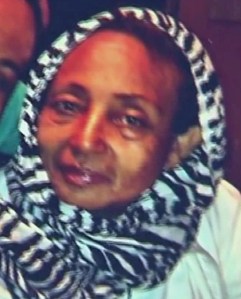 The two killings and the officer-involved shooting, along with initial reports that authorities were searching for multiple suspects, created a confusing situation, Ontiveros acknowledged.
"We didn't know if we had one, two or five suspects. We believe … there was probably just the one," he said.
Police later said the three scenes were connected and that the gunman was the believed to be the lone suspect.
During the search for the shooter, a civilian was caught in the area and had to be extricated via a SWAT armored vehicle, the chief said. The man had injuries that were not life threatening.
About 2:15 a.m. Wednesday, a police dog caught a scent that led to the gunman's body in rough terrain and heavy brush, Ontiveros said. An assault rifle was near the dead man and was believed to be the weapon used in the shootings, according to the chief.
The names of the gunman and injured officer have not been released.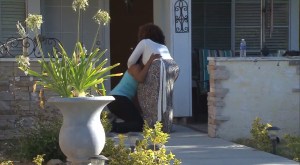 A man who identified himself as Patterson's son was bewildered by her death. He said he could not think of anyone who would want to hurt her.
"It don't make no sense, for her to get caught up like this," said Randy Greene, who described Patterson as mother of five and grandmother of 12. "I would never have dreamed, or think about this. This is my last thought of my mother, getting shot in a gas station."
Greene said his father lived on Delphinium Avenue, the street where the other body was found.
The Riverside County coroner later on Wednesday confirmed the first victim as Wilma Patterson, 74. She died at 2:29 p.m. Tuesday, five minutes after being injured.
The victim discovered at the Delphinium Avenue addresss was described by the coroner only as an adult male who was found at 4 p.m. His identity was not released pending notification of family.
More Video: