This is an archived article and the information in the article may be outdated. Please look at the time stamp on the story to see when it was last updated.
An investigation was underway after a woman's body was found Thursday afternoon inside a refrigerator in a residential garage in Santa Ana, authorities said.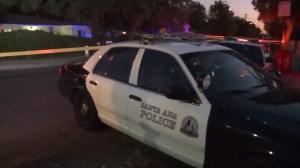 The discovery was made on a rental property near the intersection of North Jackson and West 11th streets, according to Cpl. Anthony Bertagna of the Santa Ana Police Department.
Police detectives and Orange County coroner's officials responded to the scene, where they initially awaited word from the district attorney's office on whether a search warrant was needed to "process the body," Bertagna said.
It not not immediately clear if the the case stemmed from a homicide, a natural death or an overdose, the corporal said.
"There's three structures on this property that rent to various people," he said. "We're trying to figure out who was living in the garage area."
After those tenants had vacated the location, the fully clothed body was found while the area was being cleaned, according to police.
The identity of the deceased person was unknown, Bertagna said, as was her possible connection to the residents of the home.
Neighbors described the former occupants of the garage as a man and a woman, both Hispanic and in their late 40s.
"There's been a couple of times when I would park my car near their street there and they would never like it. I don't know why," said one nearby resident, who asked not to be identified by name. "They would say, 'If you park here there's going to be some trouble.' I stayed away from that."
Early Thursday evening, officials strapped the refrigerator to a hand truck and — with the body still inside — wheeled it out to a coroner's truck.
The body then transported to the Coroner Division, where it could be examined in a "clean environment," authorities said.