This is an archived article and the information in the article may be outdated. Please look at the time stamp on the story to see when it was last updated.
BREA, Calif. (KTLA) — Police on Saturday identified the man who was found dead inside a trash can in Brea.
Jose Ramiro Baez Paredes was 46 years old and his last known address was in Santa Ana.
The cause of death was still under investigation on Saturday.
A passing motorist made the gruesome discovery on Brea Canyon Road just after 3 p.m. on Friday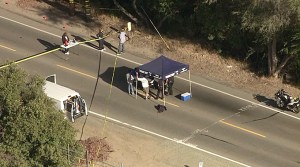 The driver "saw what appeared to be human hands" and immediately called the police, Brea police Lt. Santo Porto told the L.A. Times.
Brea Canyon was closed between Central Avenue and Tonner Canyon Road while police investigated the scene.
Check back for updates on this developing story.