This is an archived article and the information in the article may be outdated. Please look at the time stamp on the story to see when it was last updated.
A woman found a man's body in the trunk of her car Saturday after pulling into the parking lot of a Walmart in Riverside and noticing a foul odor, authorities said.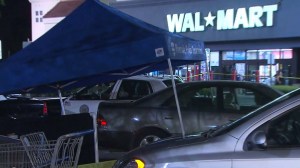 Officers responded to the location, in the 5000 block of Van Buren Boulevard (map), after receiving a call at 4:42 p.m., said Lt. Julian Hutzler of the Riverside Police Department. The body was in the trunk of a 1999 Lexus.
Robbery-homicide detectives and an evidence technician were also summoned to the scene.
The owner of the vehicle, a resident of Pomona, had driven to the Walmart to shop after leaving work, authorities said.
The woman recognized the deceased person when she made the discovery, said police Lt. Jaybee Brennan.
"The decedent in the trunk is not someone in her family. It is someone that she knows, and that's all that we know at this time," Brennan said. "We're trying to determine … where this happened."
Investigators said the victim "more than likely" died in Pomona, according to a news release.
The Riverside County coroner will determine the man's identity and conduct an autopsy, officials said. Pomona police were assisting with the investigation.
No other information was immediately available.