This is an archived article and the information in the article may be outdated. Please look at the time stamp on the story to see when it was last updated.
Amid the search for a 78-year-old Culver City man who summited Mount Baldy hundreds of times, crews searching the peak on Tuesday found the body of a man they believe to be the missing hiker.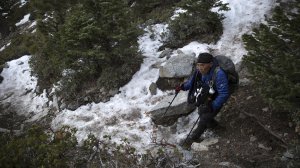 The body was discovered by a San Bernardino County Sheriff's Department helicopter crew on the north side of the 10,064-foot mountain about 2:10 p.m. Tuesday.
It's believed to be that of Seuk Doo Kim, who went by Sam, but positive identification is still pending, the Sheriff's Department said. It's not clear what condition the body was in or if the victim fell.
Earlier Tuesday, authorities said search-and-rescue teams from five counties were searching for Kim. On scene Tuesday afternoon, they said the search was called off.
Kim has climbed Mount Baldy, Los Angeles County's highest peak and the fourth tallest in Southern California, more than 800 times.
Late last year, he was profiled by the Los Angeles Times. He wanted to complete his 1,000th climb in 2017.
He considered himself a kind of ambassador to the mountain and was known to hand out snacks to fellow hikers and demand that others on the trail pose for a photo with him, the Times reported.
He had gone hiking Friday but did not return home; he was reported missing Sunday morning.
The body was found on the L.A. County side of the mountain, which is bisected by the county line. An L.A. County Sheriff's Department San Dimas Station will assume control of the investigation.