This is an archived article and the information in the article may be outdated. Please look at the time stamp on the story to see when it was last updated.
The body of a toddler found Thursday in an aqueduct in Hesperia is believed to be that of a toddler who has been missing since a car crash two weeks ago, according to the San Bernardino County Sheriff's Department.
Deputies and a sheriff's dive team recovered the body, believed to be that of Noah Abbott, around 12 p.m. in the California Aqueduct south of Farmington Street.
Noah's body was initially not found after a car crash on March 2 that killed his mother, 31-year-old Christina Eileen Estrada, and his brother, 3-year-old Jeremiah Abbott, police said.
Noah's oldest brother, 10-year-old Elijah Estrada, was injured in the crash but survived his injuries after being taken to a hospital in Loma Linda.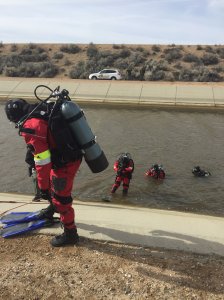 Christina Estrada was driving a Volkswagen convertible when it crashed through a rail near Main Street before landing in the aqueduct. The location where the toddler's body was found is more than 4 miles from the crash site.
The county coroner's office responded to the discovery of the body Thursday; the office will confirm the child's identity at a later date.
Following an investigation, sheriff's officials said in statement that there was "nothing to suggest that this is anything other than a very tragic accident."
The father of the children was not in the car at the time of the crash, according to family members.