This is an archived article and the information in the article may be outdated. Please look at the time stamp on the story to see when it was last updated.
The body of a CSUN student from Saudi Arabia was found off the 10 Freeway in Palm Desert, authorities confirmed Friday, exactly a month after the 23-year-old disappeared.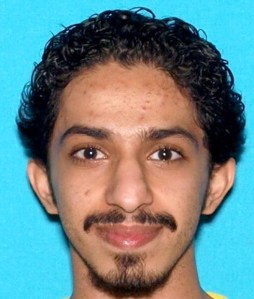 Abdullah Abdullatif Alkadi has last been seen at his home in Northridge Sept. 17. He was the subject of an LAPD missing persons investigation in which the FBI was assisting.
A male body was found just before midnight off the 10 Freeway east of Cook Street in Palm Desert (map), according to the coroner's office in Riverside County.
In a brief news release, the Los Angeles Police Department  confirmed Alkadi's remains were discovered near the Cook Street overpass at 11:50 p.m. Thursday.
LAPD Chief Charlie Beck was expected to hold a news conference Monday on the status of Robbery-Homicide Division's investigation into the Alkadi's disappearance and death.
"Because the investigation is at a crucial juncture, further information surrounding this investigation will not be released until the news conference," the LAPD release stated.
The cause of death and the condition of the body were not made available.
Many on Twitter mourned Alkadi, largely in Arabic, and demanded an investigation into his death for hours Friday before LAPD confirmed the remains were his.
"#RIP_Abdullah_Alkadi. Such a sad and heartbreaking death is a proof that terrorism has no religion and no country," one tweet read. "We demand justice for him."
Friends were gathered outside Alkadi's home in Northridge, but his brother had not spoken with mourners or news media there by Friday afternoon.
Alkadi's parents were "beside themselves with grief" and "shocked" that something like this could happen, according to family friend Salman Al-Mutawa.
A third-year electrical engineering student at California State University Northridge, Alkadi had sold his car shortly before he disappeared. Police had said the transaction was not linked to his disappearance, his brother Ahmed Alkadi told KTLA earlier this month.
"We can't stand life without him," Ahmed Alkadi said.
The young man's cellphone activity was traced to Beaumont, in Riverside County, Ahmed Alkadi told the Los Angeles Daily News last week. His last communication was a phone call to a cousin on Sept. 17 that was "normal," his brother said.
Abdullah Alkadi had been with his parents and family in Saudi Arabia over the summer, then returned to California on Aug. 24 and started the semester.
His family was extremely concerned for his welfare because it was unlike him to be out of communication, an LAPD spokesperson said after the disappearance was made public by police Sept. 19.
Abdullah Alkadi was one of seven siblings and had been studying in the U.S. since 2010, his brother told the Daily News.
More Videos: